SCOM Managed Instance (or simply SCOM MI) represents a major step forward in the management of hybrid datacenters. SCOM MI delivers "SCOM-as-a-service" by having the back-end SCOM infrastructure running as services in Azure. Customers can spin up a new instance of SCOM MI and the associated components like SQL MI easily then connect to resources running in Azure or on-prem for in-depth monitoring, alerting and reporting.
For customers currently running SCOM, Silect is introducing a new Migration Assistant to make the move from on-prem SCOM to SCOM MI simple and error-free. Our new Migration Assistant captures all management pack settings from an existing SCOM deployment and moves it to SCOM MI with a few mouse clicks. This preserves critical detailed monitoring configurations to ensure service levels are maintained throughout a transition to SCOM MI.
The Migration Assistant guides the user through this side-by-side upgrade. After the on-prem SCOM and SCOM MI management groups are selected, the wizard inventories all MPs to determine which require migration and which don't: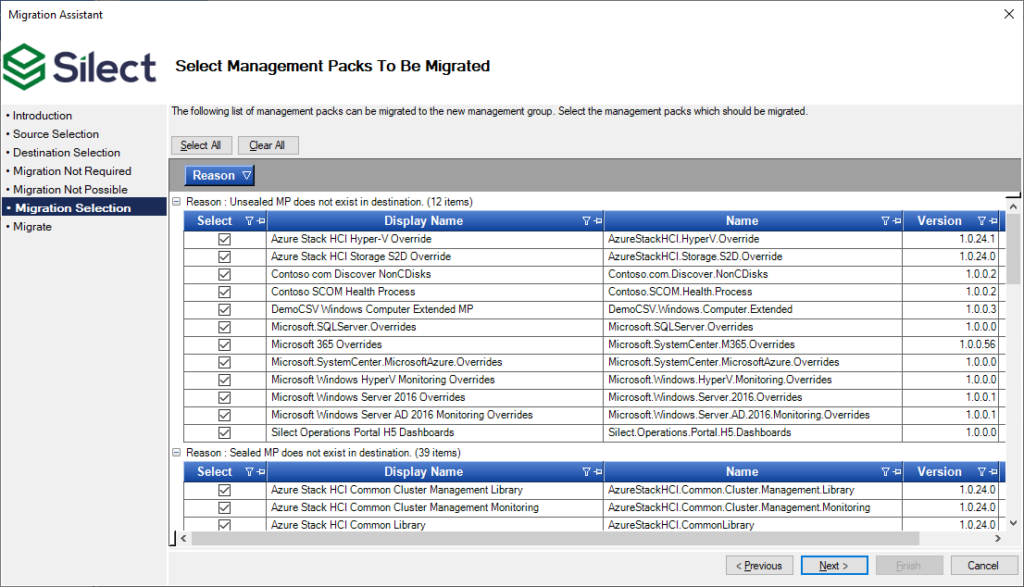 Selecting the appropriate MPs (or in this example all MPs) then clicking Next automatically moves the MPs to the SCOM MI instance and SCOM MI now has the same monitoring settings as SCOM on-prem had previously.
The new Migration Assistant is now available in Silect MP Studio. For more information follow this link:
https://www.silect.com/mp-studio